eBRAM provides technical support to the Virtual Signing Ceremony between the International Institute for the Unification of Private Law and the Government of the Hong Kong Special Administrative Region
13 May 2021
(Hong Kong, 12 May 2021) eBRAM International Online Dispute Resolution Centre Limited ("eBRAM") is proud to be the technical partner of the virtual signing ceremony of the Memorandum of Understanding for the Technical and Administrative Arrangements relating to the Secondment of Legal Professionals between the International Institute for the Unification of Private Law ("UNIDROIT") and the Government of the HKSAR on 12 May 2021.
Facilitated by the eBRAM's secure online video conferencing and electronic signing technologies, the Secretary for Justice of the HKSAR Government, The Hon Teresa CHENG Yeuk-wah, GBS, SC, JP, and Secretary-General Professor Ignacio Tirado of the UNIDROIT conducted a virtual signing ceremony of the Memorandum of Understanding.


Dr Thomas So JP, the Chairman of eBRAM, said, "building capacity for local and regional legal profession, in particular online dispute resolution ("ODR"), is a concerted effort, we are pleased to be part of this important milestone. eBRAM is committed to nurture legal talents through continuous provision of training and opportunities for young legal professionals to gain experiences in practising ODR, so as to reinforce Hong Kong's status as an international legal hub."
Pioneering and user-friendly, eBRAM's electronic signing technology enables multiple parties in different parts of the world to sign on the same electronic document simultaneously through its secured and proprietary online platform.  All data are stored in a private cloud server in Hong Kong under the protection of Hong Kong laws.  It is easy to track and trace the signing process and signed document.
eBRAM strives to develop a state-of-the-art and comprehensive online legal platform by rolling out more Law Tech services, including smart contract, AI legal translation, and legal cloud, etc. to consolidate Hong Kong's position as a LawTech hub.
Photos: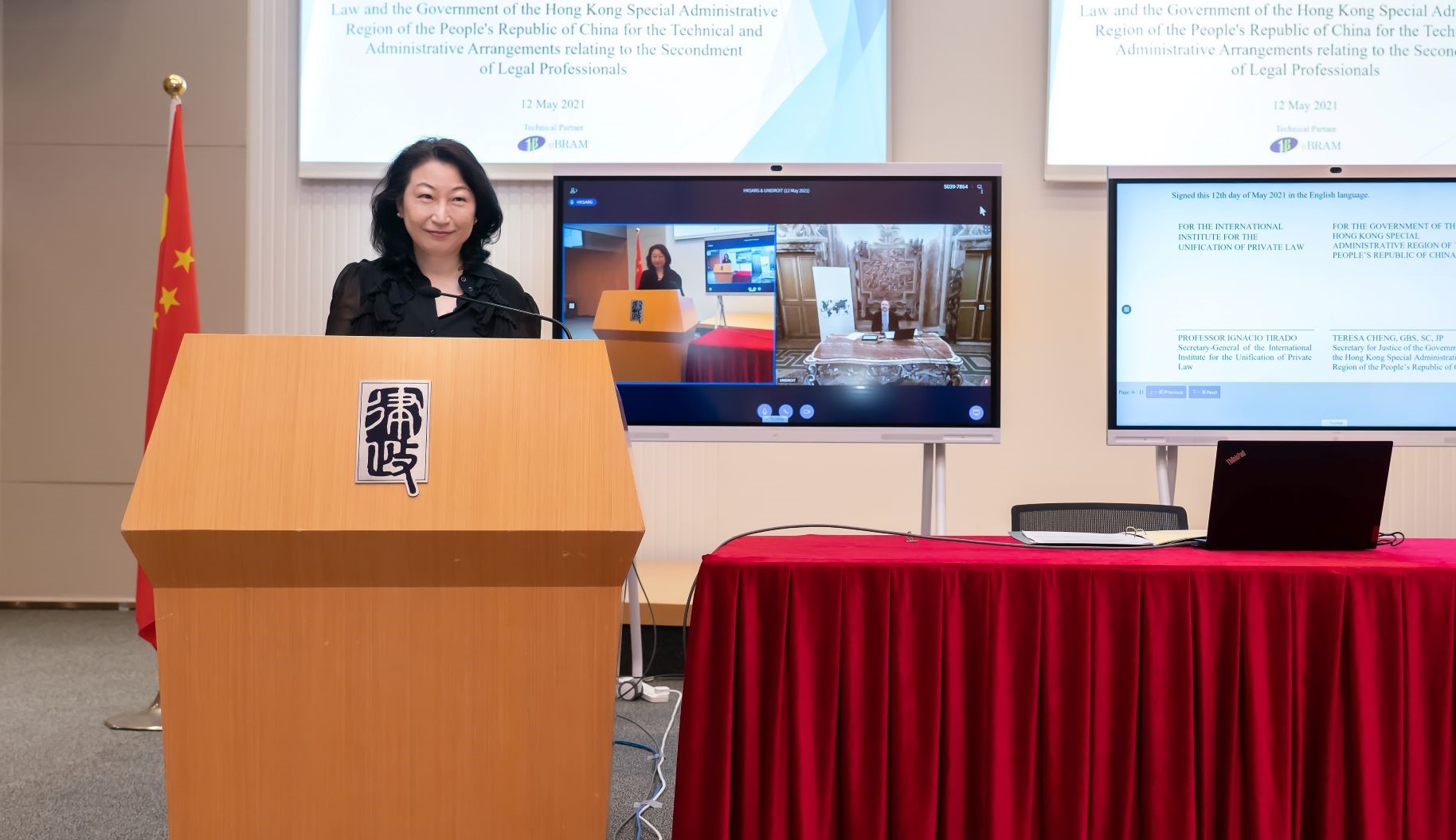 The Hon Teresa CHENG Yeuk-wah, GBS, SC, JP, the Secretary for Justice gave an opening remark in the ceremony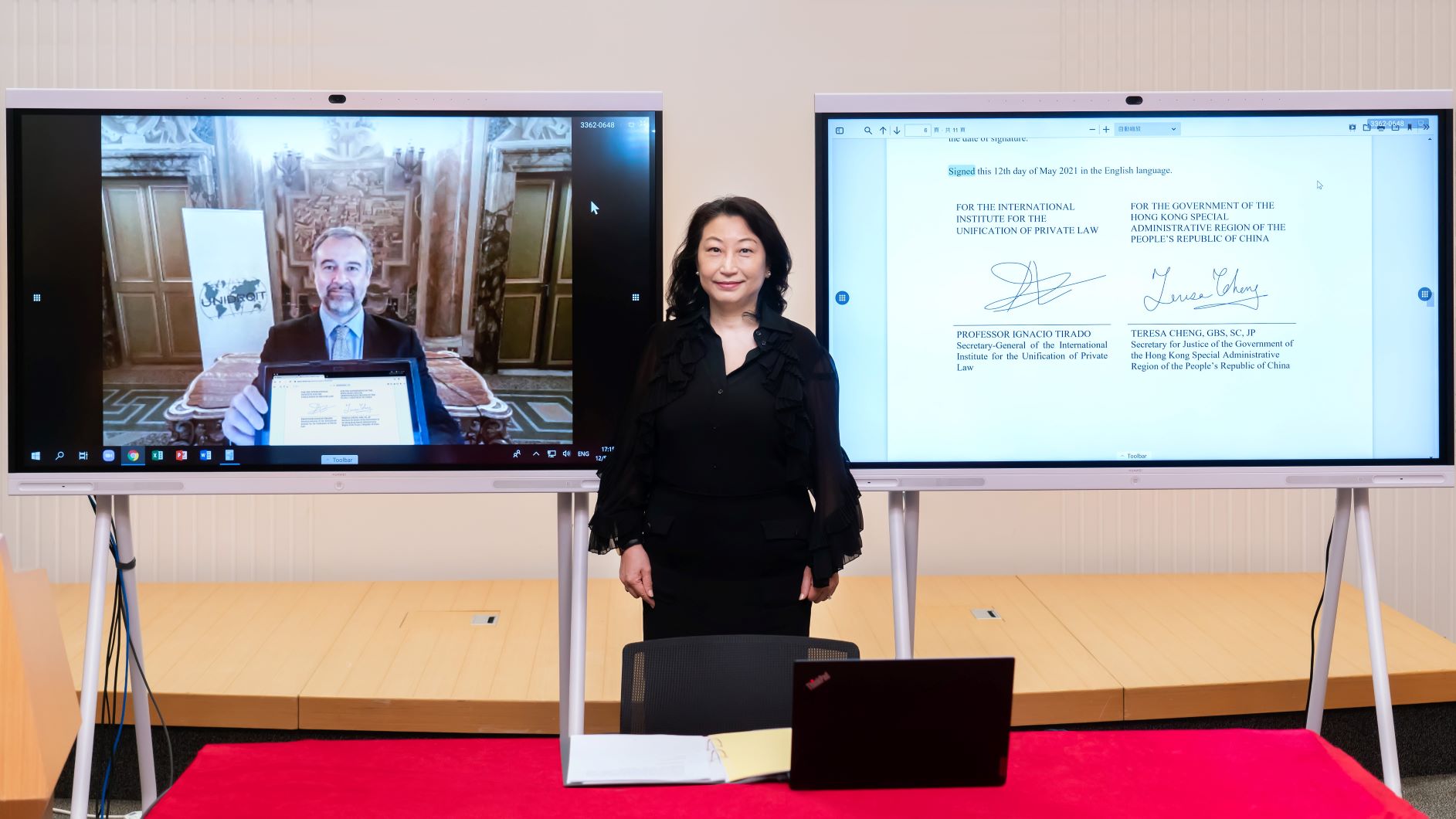 Virtual signing ceremony of MoU between HKSAR Department of Justice and UNIDROIT

- End -
About eBRAM
eBRAM International Online Dispute Resolution Centre Limited ("eBRAM") tasks itself to elevate Hong Kong's arbitration and mediation services, and build capacity to meet the rapidly expanding demand for online dispute resolution and deal-making services across the borders, by utilizing innovative technologies to enable the city to become a LawTech centre and hub for international business dispute avoidance and resolution, and collaborate with global organizations and participating economies such as the Asia-Pacific Economic Cooperation (APEC), the Association of Southeast Asian Nations (ASEAN), Belt-and-Road countries and beyond.
eBRAM has developed its platform leveraging latest technologies, which include artificial intelligence, blockchain, cloud and soft robotics. Cybersecurity and data privacy compliance are our top priority to ensure the protection of information in the eBRAM platform and communications.
Media enquiries:
Ms Elaine Ching, Marketing Manager
Phone: +852 3844 5230
Email: info@ebram.org
Copied to clipboard
Sorry, it is only supported for mobile browser